Contact Us
Schedule Appointment
Quality Countertops
in Milwaukee
Your kitchen or bathroom is not really complete if it doesn't have a matching quality countertop that compliments your beautiful cabinetry.
We offer a wide selection of high-quality, affordable countertops, which all possess properties that our clients are looking for.
Visit our showroom to see the entire collection of various countertops we currently have available or you.
Huge selection of quality contertops
Over the recent years, quartz countertops have been gaining more and more interest among our clients. While quartz is always a great and affordable choice, we also carry a wide selection of beautiful granite and marble countertops for those clients who seek more distinctive looks for their kitchens or bathrooms.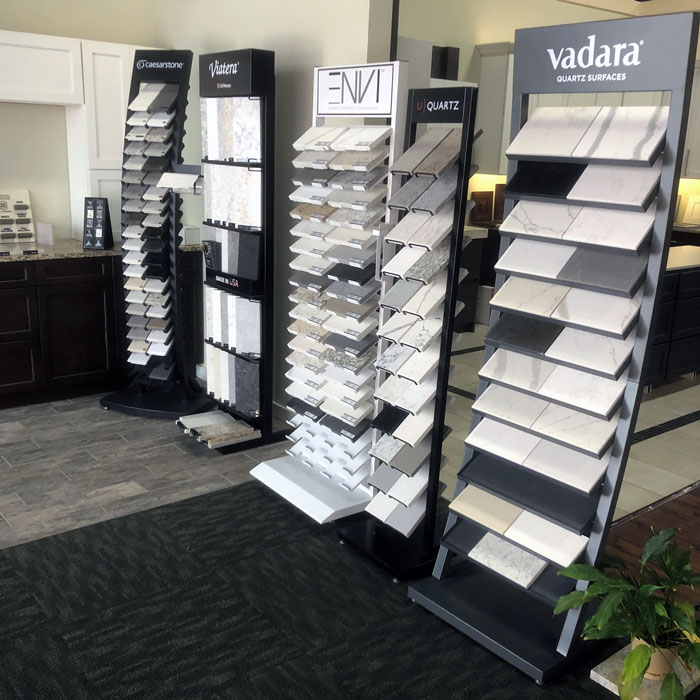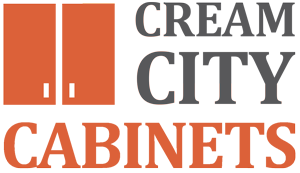 What Our Customers Say?
We started this journey of remodeling just before we were all in lockdown due to Covid. We had a great experience working with Nadia who is very knowledgeable, kind and patient. We were grateful to her for guiding us through our kitchen remodeling process. We love our beautiful cabinets and counters so much and get many compliments on them! Rainer and Cory did a fantastic job with the demo and reconstruction of our kitchen! We would highly recommend Cream City Cabinets to anyone wanting a beautiful kitchen without a lot of hassle and money left in your checkbook to furnish your new kitchen! Pam & Gary Pagel
- Pam Pagel, 53149
From the moment we walked into Cream City Cabinets, Ivo was very helpful and pleasant! We chose our granite for our bathroom counter, it arrived in a very timely manner! The granite is just beautiful! Three gentlemen delivered and installed the granite with knowledge and professionalism…we would do business with this company again! Thanks so much!
- Suzanne, Mukwonago, WI
I want to thank the people at Cream City Cabinets. The cabinets are very well built and the installer is a perfectionist. I would recommend them to anyone looking for a new look in there kitchen, bath or laundry rooms. They gave us a new kitchen in a older home that was quite a challenge to work with. The kitchen is now almost a work of art. Great people, great work and on time all the time.
- Gary & Rebecca, Dousman, WI
We recently used Cream City to provide the vanity for our bath remodel. The cabinets are very nice quality and were very price competitive, and they were available for install much quicker than other suppliers we considered. Nadia was great to work with; very pleasant and helpful, including making the cabinet choices and working with the countertop provided. We would definitely use them again.
- Michael, Pewaukee
I moved into a severely outdated home over a year ago and knew I needed to remodel the kitchen. After researching and receiving a few quotes, a friend of mine recommended Cream City Cabinets. I let the staff at Cream City know I was on a limited budget (not a large one either) and they assured me I was in the right place! I worked with Ivo at the store to finalize my project and it began and ended as scheduled. Ivo was awesome and kept me informed of what would be happening at my house each week. My "kitchen remodel" became a "house remodel", since walls came down, hardwood flooring replaced the entire living area, new windows were created, plumbing was rerouted, and new electrical was installed. It was so nice to only work with one company that could do everything, rather than having to hire separate plumbers, electricians, etc. The men were on sight daily and I would be remiss if I didn't call out how impressed I was with Rainer. Besides being one of the kindest people I've ever known, Rainer is incredibly hard working and very skilled. Rainer knew I wanted ceiling beams and went out of his way to make them for me. The crown molding, as well, is testimony to his exceptional skills. (He also has to be a saint to have tolerated my two large dogs hanging out with him every day!) The end result is simply breathtaking! This remodel bears no resemblance to the unattractive house 8 weeks earlier. It really deserves it's own page, since the transformation is remarkable! I couldn't be more pleased with Cream City Cabinets and have never recommended anyone more highly!
- Kathy Zdroik, Hartland, WI
Such a wonderful company. I wish all companies were like this. I went in with a small budget and Nadia said "Oh, if course we can do something beautiful for that price!" and they ARE doing a BEAUTIFUL kitchen in our home. They have significantly better prices than the chain stores, the and MUCH better than the kitchen people I found on Marketplace. Nadia is so kind and patient. She makes you feel like you are her most important customer and she honestly wants to help you save money. I am beyond thrilled with the entire process after having been discouraged by other companies I had checked with. She is very talented at designing as well. I couldn't imagine making the kitchen I had into what they are building! But they did it! She suggested moving the refrigerator and it made our kitchen look twice as big, open and airy. I also love that they don't use a bunch of subcontractors. Rainer and Cory do the work and they do it beautifully. They are very attentive to detail, and you can really see the craftsmanship in their work. They go above and beyond making sure you are happy with everything. We've had a lot of remodeling and work done on our home this past year. THIS is the only company out of them all (three other contractors/companies) that I felt was really dealing with me honestly, and not trying to take advantage of us. My only wish would be that they would offer ALL home remodeling because it's so nice to finally have faith in a company and their crew.
- Dawn Miner, Waukesha, WI
Cream City Cabinets was highly recommended to us by a general contractor and we are so glad we decided to stop in and check their showroom out before remodeling our kitchen. We were under a tight deadline and they were able to generate their free design quickly! Their cabinets and quartz countertops are top notch at a very affordable price. I would highly recommend Cream City Cabinets for their good service, quality product, and very affordable prices!
- Phil and Lauren T., Brookfield
Cream City Cabinets was very nice to work with. They did an excellent job with the granite. They had a large selection and reasonable prices. They where very professional. I highly recommend them.
- Shirley, Harthland, WI
I spent a lot of time researching the cabinets for my kitchen and concluded that RTA cabinets where the most cost effective. I came across Cream City Cabinets and went to their show room, which i couldn't do with the online guys. I was able to look over the cabinet and pick the style I wanted. The proprietor Ivo was very helpful with ordering, and giving me the time to re-measure my layout. After submitting the order, Cream City had the cabinets in the time window I requested and delivered them completely assembled on a Saturday. I installed them and am very happy with the results. They look awesome, they where assembled well, and all the hardware is soft close. During ordering there was a panel that was missed, by me. I emailed Ivo and he had it in house in a couple of days. I couldn't ask for more. I am very happy with the service, the quality for the price, and the over all experience.
- Patrick Z.
Recently, my wife and I remodeled our kitchen, new cabinets and counter tops. We would like to express our delight with the cabinets we purchased and the service we received from Cream City Cabinets in Waukesha. Special mention to Ivo, our salesperson, who helped us every step of the way. We installed the cabinets ourselves and Ivo was just a phone call away, to give us any help we needed. He even offered to come to our home to rectify any problem we had. We really like the looks of our new cabinets and just love the soft close cabinet doors and draws. Thanks to Ivo and Cream City Cabinets.
- Patrick R.
We can not say enough about the great work Cream City Cabinets did in our home. From plan design to build, we couldn't be happier. The team arrived promptly every morning and cleaned up each evening before they left. The guys were friendly and were incredibly easy to work with. We are very satisfied with our new kitchen. We felt that we got a high quality job without the hassle, the kitchen was finished on-budget and ahead of schedule. We highly recommend them. Thanks again for everything!
- Courtney J.
I simply love, love, love these guys! They gave me great advice on different designs. Their prices are more than reasonable. Actually, THEIR PRICES ARE THE BEST!!! The cabinets arrived in less than three days and they did a great job installing them. The guys at Cream City Cabinets were very professional throughout the whole process and I would definitely recommend them to all of my friends.
- Dana M.
Excellent service. Quality products. They delivered cabinets two days after I placed the order. Installers arrived always on time and cleaned up every evening. Entire project was completed in four weeks, including installation of granite counter tops. I recommend them highly!
- Tony T.
We highly recommend Cream City for cabinets and kitchen remodeling. They have an attractive showroom and offer good quality products at a reasonable price. The guys are professional and are experienced in all phases of the remodeling process. They finished the job within a few days as promised. They are friendly and helpful offering good design solutions. They take pride in their work and make every effort to make sure things are right. They did a great job with the installation and we are very happy with our new kitchen.
- Barry and Judy
The first day we walked into the showroom, Cream City Cabinets impressed us with their efficient manner of collaboration and designing. We needed a partner that would listen to our ideas and offer best practice solutions. They were patient and reassuring when answering our questions. Cream City Cabinets delivered and installed promptly and within budget. They were meticulous about every detail. From their knowledgeable, friendly, professional staff, to the well made construction of the cabinetry, our experience with Cream City Cabinets confirms to us that we partnered with true experts in kitchen renovations.
- Alice and Ernie S.
Cream City Cabinets offer a great selection of cabinets. They also posses the highest level of workmanship and their professional workers pay a great attention to detail, are polite and friendly. You won't regret choosing Cream City Cabinets as your cabinets supplier! Thank you, Cream City Cabinets!
- Daniel S.
First, the staff at Cream City cabinet are extremely patient, prompt, and very effective communicators. Excellent customer service is difficult to find, and my experience with everyone there so far has been outstanding. I just wanted to follow up with our purchases, assembly, and the many compliments we have received. I am extremely happy with our purchases. I found the cabinets to be of the highest quality and strength from design and construction standpoints. We would, and have, highly recommended your company and products to our family, friends, professional colleagues, and business associates.
- Myra J.
Are You Our Customer?